Hair Raising
Hey there,
'Redheads
... Everybody have a good weekend? Mine was pretty fun. I filled in as MC for a couple late night shows at the Arlington Drafthouse with comedy comrade, Tim Miller, and your headliner, Orny Adams. You may remember Orny from Jerry Seinfeld's documentary,
Comedian
. He's the other comedian that the camera follows around when it's not on Jerry. A fun time was had by all. Even with the snow, people found their way to us to warm up with some laughs. Orny's got a
Comedy Central
special coming out soon. I recommend you check it out. His look has changed over the past couple years. His hair is bigger. The reason I mention that is because I was talking about it with Tim and I remarked that he looked like Lord Whorfin from
Buckaroo Banzai
...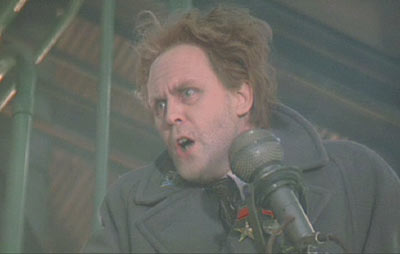 Tim had no idea what the hell I was talking about. So, I went with a different reference and I said he looked like Heat Miser...
Still had no idea. I'm not that much older than him. Are these two things that obscure? I get not having seen
Buckaroo Banzai
(
but seriously, if you haven't, rent it
), but who hasn't heard of Heat Miser? Is it a black/white thing? Help me out, people. Anyway, was I far off?
Just sayin' is all...
Also, because of my comedic responsibilities, I missed out on seeing my first monster truck rally. You heard me.
Monster Jam
was in town and, on a lark, a bunch of friends decided to go. I was pretty jealous that couldn't partake in the white trash festivities. I've been to plenty of live wrestling events, but this is on another level. I'm sure it was a hoot and a holler. It's not often that you get a chance to cheer on cars getting crushed by bigger cars, unless a Hummer backs over a Smart Car while parallel parking.
More on Tuesday...
Labels: comedy, funny, hair, Jared Stern, Monster Jam, Orny Adams